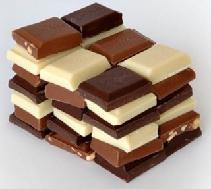 España fue el primer país del mundo en desarrollar y fabricar el chocolate.
Jerónimo de Aguilar, natural de Écija, participó en la conquista de México junto a Hernán Cortés, los aztecas y mayas consumían el cacao machacado de forma líquida junto con agua y miel. Jerónimo envió el cacao y la receta al Abad del monasterio cisterciense de Piedra (Zaragoza), que elaboró el dulce por primera vez en Europa en el año 1.535 poco después estos monjes le añadirían azúcar y lo denominarían "chocolate", el cuál se haría famoso por todo el mundo.
-----------------
Spain was the first European country to develop and manufacture the chocolate.

Jerónimo de Aguilar, native of Ecija, participated in the conquest of Mexico with Hernán Cortés, the Aztecs and Mayans consumed the liquid form of crushed cocoa with water and honey. Jerónimo sent cocoa to the Abbot of the Cistercian monastery of Piedra (Zaragoza), which produced the sweet the first time in Europe in the year 1535 shortly after these monks will add sugar and known as "chocolate", which would become famous around the world.