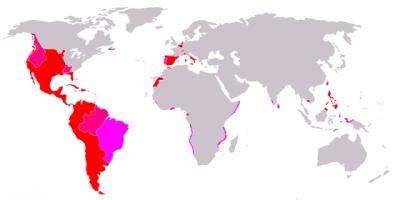 España fue el mayor imperio en la historia de la humanidad, el Imperio Español se convirtió bajo el gobierno de Felipe II (S. XVI) en el primer imperio global, porque por primera vez una nación abarcaba posesiones en todos los continentes. Ha sido el más próximo a la dominación mundial por su poderío militar y en sus posesiones incluía países y zonas europeas.
Carlos V incluyó en el escudo de España "Plus ultra" (más allá), visible aún en la actualidad, en referencia a tal expansión y también es conocida la frase "el imperio en el que nunca se ponía el sol".
Se debe poner de relieve es que dicha dominación militar se llevó a cabo con pequeños barcos de madera, picas, espadas y arcabuces, no como por ejemplo la expasión británica durante la revolución industrial, en la que luchaban con trenes, fusiles y ametralladoras contra aborígenes con lanzas.
"Los españoles son ejemplo que no parece excepción, pues siendo generalmente de estatura pequeña, la grandeza del corazón es tan grande que les da aliento, de forma que con su propio valor se han hecho dueños del mundo"
Juan Pablo Mártir, 1626.
http://aula.elmundo.es/noticia.cfm?idTipoPortada=3&general=1&idComunidad=&idPortada=204&idNoticia=4138
http://es.wikipedia.org/wiki/Colonias_de_Espa%C3%B1a
http://es.wikipedia.org/wiki/Carlos_I_de_Espa%C3%B1a
http://es.wikipedia.org/wiki/Felipe_II
----------------------
Spain was the largest empire in the history, the Spanish Empire became under the rule of Philip II (S. XVI) in the first global empire, because was the first time that an empire covering holdings on every continent. Has been closer to world domination by military might and its possessions had European countries.

In the shield of Spain can be read "Plus Ultra" (latin) in reference to its expansion and is also called "the empire on which the sun never sets" times of Charles V (S. XVI).

This military dominance was carried out with clubs and swords, it's not like the expansion during the British industrial revolution, which struggled with trains, rifles and machine guns against savages with spears.

"The Spanish are not seemed such exception, being generally small in stature, the greatness of the heart is so big that gives encouragement, so that its value has been made masters of the world"
Juan Pablo Martir, 1626.
http://en.wikipedia.org/wiki/Charles_V,_Holy_Roman_Emperor
http://en.wikipedia.org/wiki/Philip_II_of_Spain
http://en.wikipedia.org/wiki/Spanish_Empire